CTM Magnetics
The CTM Advantage
Different Mindset
CTM Fosters A Culture of Innovation:
Our team embraces a culture of fearlessly pushing boundaries, cultivating ideas that ignite progress and engineering trailblazing solutions to meet the ever-evolving needs of our clients.
Understand
Understand what the customer wants, needs, and requires.
Deliver
Deliver products that meet customer requirements and provide technical support.
Improve
Improve by analyzing data and implementing continual improvements to lower costs and cut lead times.
CTM vs The Competition
CTM Outshining The Competition
Discover why CTM Magnetics outshines the competition with its innovative technology, superior performance, and unwavering commitment to engineering excellence, setting new standards in the realm of power quality solutions.
The Donut Difference
At CTM Magnetics, we revolutionize power quality with the innovative "Donut Difference." Our round inductors, resembling a donut shape, offer numerous advantages over traditional silicon steel "E" core inductors. The "donut" design boasts a host of advantages, including enhanced thermal performance, high power density, noise reduction, and unrivaled high-frequency capabilities, among other notable benefits.
Competitor Limitations
Silicon steel has become an outdated technology in the magnetics industry, particularly for high-power applications. Companies using this tech often face the challenge of oversizing products for their intended application, leading to the need for derating. As a result, the product footprint ends up being significantly larger, posing difficulties for industries where space is at a premium.
The Donut Difference
Redefining Power Quality Solutions
By choosing CTM Magnetics over our competitors, you're selecting the "Donut Difference" and embracing a new era of power quality excellence that outperforms traditional approaches. We understand the shortcomings of conventional silicon steel material and have set out to redefine power quality solutions with superior technology. Our groundbreaking approach leverages advanced materials and construction methods that outperform the limitations of silicon steel, delivering unparalleled efficiency, reliability, and performance you deserve.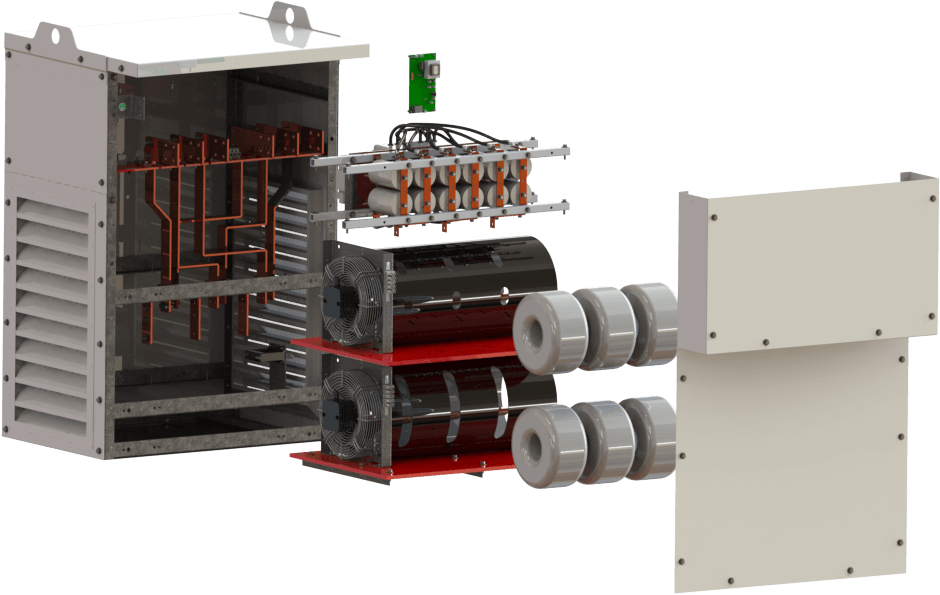 Guaranteed High-Quality Products:
Proudly Made in the USA, CTM Magnetics ensures that all our products are meticulously engineered and manufactured on American soil. We adhere to the highest standards of craftsmanship, resulting in top-quality products that you can rely on. With our unwavering commitment to excellence, we guarantee the delivery of exceptional solutions that exemplify the finest in American manufacturing.
Reliability
Reliability is at the core of everything we do. We engineer and deliver power quality solutions that surpass industry standards, ensuring unmatched performance and dependability.
High Power Density
Our innovative designs and advanced technologies allow us to deliver compact yet powerful products, maximizing efficiency and performance while minimizing space requirements.
Liquid-Cooled Technology
The sole provider of fully liquid-cooled solutions, we redefine industry standards, offering superior heat dissipation for unparalleled performance and unwavering reliability in your high-power systems.
Military Grade Shock & Vibrations
Passing rigorous military shock and vibration tests, our products are built to withstand the most demanding conditions, providing unmatched reliability and peace of mind for critical operations.
Our Products
Take Advantage of CTM Magnetics
Leverage the power of CTM Magnetics' unrivaled products and industry expertise.