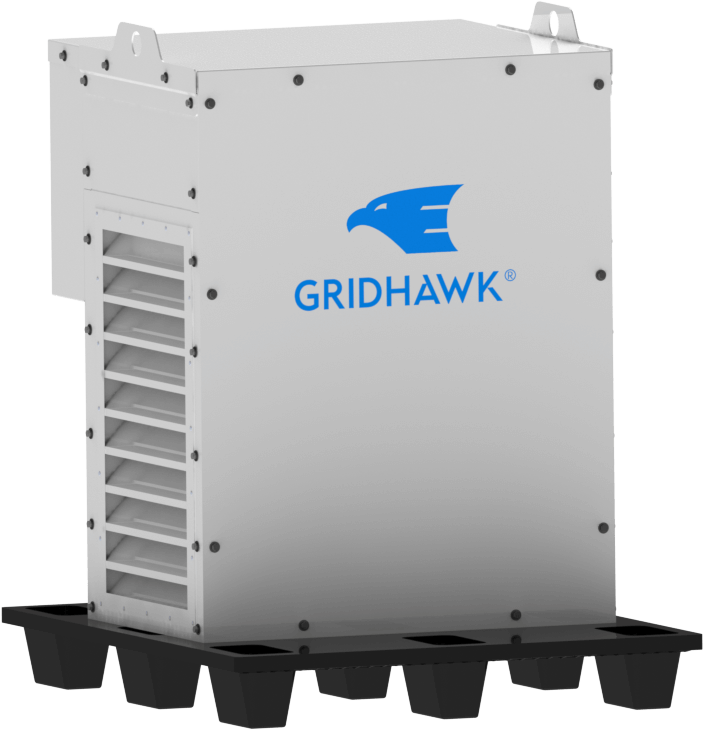 The Optimal Solution for Harmonic Mitigation & IEEE-519 Compliance
GridHawk® Passive Harmonic Filters (50/60 Hz)
CTM Magnetics GridHawk passive harmonic filters are a size and cost optimized solution that solves harmonic distortion and guarantees IEEE-519 compliance. The GridHawk filter is specifically designed to handle extreme levels of background voltage distortion of up to 15% THVD without requiring a filter derate. With a built in cooling system, sealed contactors, and a robust capacitor safety circuit, GridHawk filters provide year round peace of mind.
Environmentally Rugged
Extreme Voltage Distortion Capable
Robust & Reliable Capacitor Circuit
Applications
Line Power
Generator Power
GridHawk vs The Competition
GridHawk®
GridHawk - Environmentally sealed contactors
Highly reliable film capacitors
Rated for 15% background voltage distortion (NO derate)
Integrated cooling system
The Competition
Unprotected contactors (prove to fail)
Electrolytic capacitors
Filter derate required above 5% background voltage distortion
Cooling system not included
Highlights
The GridHawk Advantage
No Derate Required
Smallest Size & optimized cost
0-15% background voltage distortion
Reliable Performance
Thermally protected capacitors & inductors.
Highly efficient patented inductors & capacitors.
No common mode noise.
Plug & Play
Simple 3-in/3-out connection
No additional cooling required
Environmentally Rugged
Dust, wind, rain, weather proof (NEMA 3R)
-50°c - +50°c
Performance
The Optimal Solution for Grid Protection
Grid Protection:
Harmful harmonics are filtered from the inverter input, protecting the grid from VFD produced harmonic distortion.
IEEE-519 Compliance:
CTM Magnetics GridHawk® passive harmonic filters are engineered to meet stringent IEEE-519 requirements for mitigating harmonic distortion. GridHawk® passive harmonic filters are designed for extreme levels of grid voltage distortion ≤ 23% without requiring a derate. Guaranteed performance in even the most demanding environments.

Environmentally Sealed Contactors:
Every contactor used in a GridHawk® passive harmonic filter is installed in an environmentally sealed enclosure. If capacitor contactors are not environmentally sealed, dust & debris have a high likelihood of causing contactor failure. When contactors fail, the capacitors are removed from the filter electrical circuit. This significantly reduces the performance of the harmonic filter, preventing IEEE-519 compliance.
Extended System Life and Reliability:
All GridHawk® passive harmonic filters come with thermal protection for both the capacitors and inductors. CTM Magnetics patented inductor technology and highly efficient film capacitors combined with environmentally sealed contactors, and a robust thermal protection circuit, provide best in class performance and reliability.
Specifications
GridHawk® Product Specs
Typical Applications
Six-Pulse Rectifier (generator compatible)
Input Voltage/Frequency
480 V ±10% / 60 Hz
Current Range
GRIDHAWK®: 80 A - 525 A (Air Cooled) | 80 A - 950 A (Liquid Cooled)
GRIDHAWK® HD: 80 A - 525 A (Air Cooled) | 80 A - 740 A (Liquid Cooled)
Maximum THID
<5% @ Full Load | <8% @ 25% Load
Overload Capability
150% rated current for 1 minute (Air)
200% rated current for 1 minute (Liquid)
Enclosure Options
Modular Panel (Air & Liquid Cooled)
NEMA 3R Cabinet (Air Cooled Only)
Capacitor Contactors
0 - No contactor
1 - Contactor for capacitor disconnect (customer control required)
2 - Contactor for capacitor disconnect with automatic pick-up and drop-out (on-board intelligence)
Agency Recognitions
cЯUus 1446 | UL 508A
Ambient Temperature Limits
Maximum: 50 °C (122 °F) (Air) | 65 °C (149 °F) (Liquid)
Minimum: -50 °C (-58 °F) (Air) | -40 °C (-40 °F) (Liquid)

Preventative measures should be taken to ensure the coolant does not freeze in the system. For UL 508A listing, the maximum ambient temperature is 40 °C (104 °F).
Custom Solutions
Get a Custom Design in just 2 Business Days
No project is too complicated.
We are here to work with you every step of the way.